Operating data must or should be documented throughout the company structure. The reasons and motivation for this may vary. The entrepreneur and their controlling need key performance indicators. For the quality manager, information on batches and product quality is crucial. He or she may even have a duty to record data for internal and external audits or higher authorities. The accounting department must allocate the costs correctly and, ideally, order-related. Maintenance staff need information about machines and malfunctions to ensure smooth operation.
All in all, they all depend on information from the process, which can be provided by machines, systems, controls and ultimately sensors.
Performance data such as piece counts or cycle times are determined at machine level by querying piece counters or light barriers. Quality data is often already available through inline or offline acquisition at the production line. Consumption and losses are often already recorded digitally. All this data lies unused. A truly untapped potential!
Machine downtimes and interruptions can be easily recorded via the operating display, but in practice it happens that no precise conclusions and analyses can be made.
Accessing Data Sources
The data sources and data formats are as diverse as the machinery or equipment in the process. Machines and equipment of various generations are used in combination. In the ever evolving machine and equipment fleet, there are all kinds of control devices, from relay-controlled systems to digitally integrated sensor networks. And those that are already digital often have different data formats and cannot communicate directly with each other.
On the whole, this poses a challenge to every company and every user: to tap into the most diverse data sources and make them usable.
This requires interface modules with the greatest possible variety of hardware interfaces and the necessary drivers for those data formats. By means of an IoT Gateway like the one provided by control, a wide range of different systems and signals can be coupled or connected simply and easily.
Which Information Is Needed – or: What Actually Matters?
Before a comprehensive integration of all sensors and signals in the company is initiated, a number of considerations must be made: Which process values are really needed? What is the ideal data source for this? The decisive factor here is the information you want to receive. A structured approach saves unnecessarily high integration costs and shortens the integration phases.
In this context, it can make sense to take a detour via additional sensor equipment instead of replacing a complete control unit.
Local Data Silos Are Often Unused
Practice shows that data points are already recorded at machine level and stored locally. Whether it is in the control system or PLC or at the local control station – often a huge data archive is hidden deep within the machine controls. Here, knowledge in data management, the necessary hardware and the appropriate software for drivers are required to break open these local data silos.
Iot Gateway Edge for Data Source Integration
The control IoT Gateway features various hardware interfaces and driver software to access these data silos.
As an industrial grade node endpoint, the control IoT Gateway sits at the intersection between edge systems – networked devices, controllers and sensors – and the control IIoT platform. It ensures a secure data connection and is remotely updated when necessary.
Equipped with an internal edge device and versatile interfaces for industrial protocols like Profibus, Profinet, OPC-UA, Modbus TCP/IP as well as analog and digital inputs The latter also enable the direct connection of loose or subsequently added sensors.
Bring Data Sources Online in Just a Few Steps
The gateway connects to the control IIoT platform via LAN, WLAN or even via LTE in mobile use. Therefore network cabling at the data source is not necessarily required.
The hardware is installed directly on site in the switch cabinet of the controller or in a dedicated installation box. Once installed, the IoT Gateway automatically reports to the control IIoT platform so that the data source only needs to be named accordingly and assigned to the plant or organizational unit.
Once the control IoT Gateway is fully set up, in operation and online, data collection from the data source begins. Procedures, settings and programs are integrated in the gateway itself to ensure protocol conversion, secure data acquisition with local data pre-processing and intermediate buffering.
The control IoT Gateway not only allows data to be collected, but can also be used to trigger actions remotely via output contacts.
From Small to Big – Start & Test Implementation With Pilot Systems
With the control IoT Gateway data sources can be quickly accessed and easily integrated into the IIoT platform control. Even if no controller is available or additional sensors are required, the gateway provides the necessary input channels. In order to get started quickly with digitalized operating or process value acquisition, it is recommended to start test installations with smaller pilot systems in order to plan the rollout for the integration of further data sources.
This way the type of data acquisition and interfaces are tested and provide an indication of which data values are required for the desired information.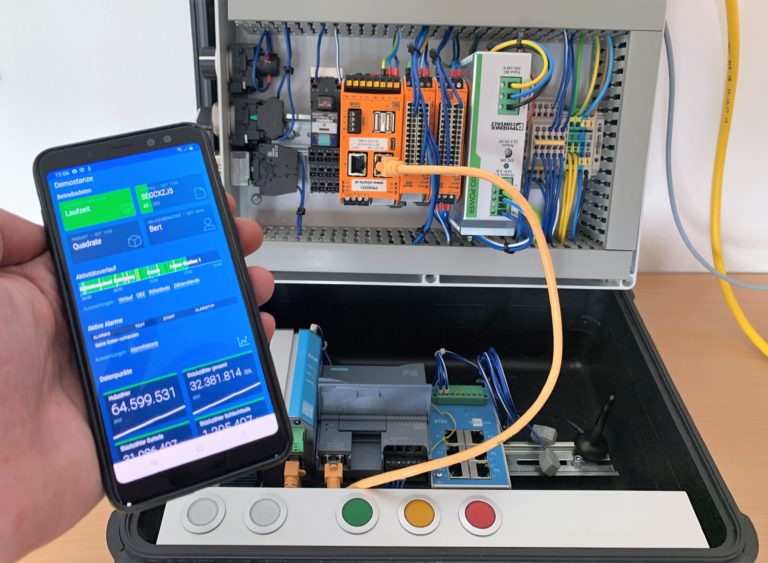 Practical Example – It's That Simple!
From a mixing and filling process in a dairy, temperature curves must be recorded and operating parameters such as the function of the agitator and the level must be monitored. The process is manually controlled and there is no digital information or interface.
Solution:
IoT Gateway with power supply and LTE modem
Temperature sensor
Level sensor
Auxiliary contacts for agitator
After commissioning, the data is recorded continuously and manual recording is no longer necessary. If the temperature or the level exceeds a limit value, control automatically generates an alarm message.
Machine data acquisition made easy!
// Further Information

Hands on! In our webinar, we will show you how data can be made usable and how you can make your everyday process work easier in practice!